Posts for: August, 2017
By Steven Taft, DDS
August 18, 2017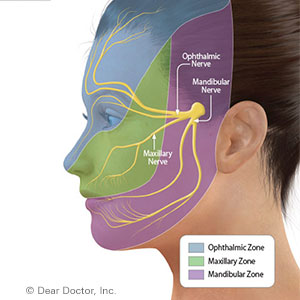 Life would be harrowing if we had no ability to feel pain. Although experiencing it is unpleasant, pain's purpose is to alert us to something wrong in our body. Without pain diseases and other problems could worsen to the point of life-threatening.
But pain without a purpose — the nerves simply misfiring — can make life miserable. This can happen with the trigeminal nerves that exit the brain stem and end on each side of the face. Each nerve has three branches that serve the upper, middle and lower parts of the face and jaw.
When they don't work properly, trigeminal nerves can give rise to a disorder known as trigeminal neuralgia. Beginning often as an occasional twinge, they may escalate to several seconds of mild to excruciating pain occurring over weeks, months or even years. An episode may erupt from chewing, speaking or even lightly touching of the face.
We see this condition most often in people over fifty, particularly women. We don't know the exact cause, but there's strong suspicion that the nerve's protective sheath has been damaged, similar to what occurs with multiple sclerosis or other inflammatory conditions. Another possibility is a blood vessel putting pressure on the nerve and disrupting its normal operation. Such an impinged nerve might transmit pain signals at the slightest stimulation and then fail to "switch off" when the stimulation stops.
Although we can't cure trigeminal neuralgia, we can help you manage it and reduce discomfort during episodes. We'll first try conservative, less-invasive techniques, like signal-blocking medications or drugs that reduce abnormal firing.
If these aren't effective, we may then recommend a surgical solution. One such procedure is known as percutaneous treatment in which we insert a thin needle to selectively damage nerve fibers to prevent their firing. If we've determined an artery or vein has compressed the nerve, we might surgically relocate the vessel. These techniques can be quite effective but they do have possible side effects like numbness or hearing loss.
If you've experienced facial pain, don't continue to suffer. Visit us for a complete examination and learn about your options for pain relief. More than likely, there's a way to reduce your pain and improve your quality of life.
If you would like more information on facial pain, please contact us or schedule an appointment for a consultation. You can also learn more about this topic by reading the Dear Doctor magazine article "Trigeminal Neuralgia."
By Steven Taft, DDS
August 03, 2017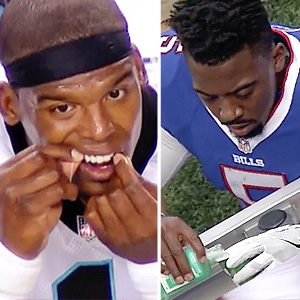 Everyone knows that in the game of football, quarterbacks are looked up to as team leaders. That's why we're so pleased to see some NFL QB's setting great examples of… wait for it… excellent oral hygiene.
First, at the 2016 season opener against the Broncos, Cam Newton of the Carolina Panthers was spotted on the bench; in his hands was a strand of dental floss. In between plays, the 2105 MVP was observed giving his hard-to-reach tooth surfaces a good cleaning with the floss.
Later, Buffalo Bills QB Tyrod Taylor was seen on the sideline of a game against the 49ers — with a bottle of mouthwash. Taylor took a swig, swished it around his mouth for a minute, and spit it out. Was he trying to make his breath fresher in the huddle when he called out plays?
Maybe… but in fact, a good mouthrinse can be much more than a short-lived breath freshener.
Cosmetic rinses can leave your breath with a minty taste or pleasant smell — but the sensation is only temporary. And while there's nothing wrong with having good-smelling breath, using a cosmetic mouthwash doesn't improve your oral hygiene — in fact, it can actually mask odors that may indicate a problem, such as tooth decay or gum disease.
Using a therapeutic mouthrinse, however, can actually enhance your oral health. Many commonly available therapeutic rinses contain anti-cariogenic (cavity-fighting) ingredients, such as fluoride; these can help prevent tooth decay and cavity formation by strengthening tooth enamel. Others contain antibacterial ingredients; these can help control the harmful oral bacteria found in plaque — the sticky film that can build up on your teeth in between cleanings. Some antibacterial mouthrinses are available over-the-counter, while others are prescription-only. When used along with brushing and flossing, they can reduce gum disease (gingivitis) and promote good oral health.
So why did Taylor rinse? His coach Rex Ryan later explained that he was cleaning out his mouth after a hard hit, which may have caused some bleeding. Ryan also noted, "He [Taylor] does have the best smelling breath in the league for any quarterback." The coach didn't explain how he knows that — but never mind. The takeaway is that a cosmetic rinse may be OK for a quick fix — but when it comes to good oral hygiene, using a therapeutic mouthrinse as a part of your daily routine (along with flossing and brushing) can really step up your game.
If you would like more information about mouthrinses and oral hygiene, contact us or schedule a consultation.